Community Engagement and Fundraising for The Big Dream
The Valdez Museum and Historical Archive (VMHA), with support from the City of Valdez, is planning a significant expansion. VMHA will merge their two existing collections into a larger, modernized, centrally located space. This is an ongoing project that will require multiple phases. As VMHA moves the vision forward, all of the effort toward the expansion is on top of everything museum staff do every day to fulfill their mission as a nonprofit museum and historical archive. Outside support at key phases is necessary to design the new museum and support related tasks. Architecture firms
Wolf Architecture
(Palmer, AK) and
Hennebery Eddy
(Portland, OR) are leading the expansion design, but brought Information Insights on for the duration of this phase. Information Insights worked with the Museum and City to support VMHA in meaningfully engaging with the community on the museum concept, and provide fundraising support through major donor development and grant writing.
Services Provided:
Facilitation, Research & Analysis, Public Engagement, Strategic & Business Planning, Fundraising Support
Scale: City of Valdez,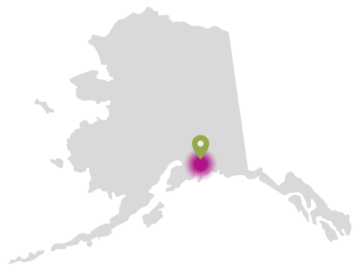 AK, providing fundraising/planning support, leveraging State of Alaska and national fundraising opportunities
Client:
Valdez Museum and Historical Archive
Client type:
Non-profit and charitable organization
Project Date: October 2020 – October 2021
Project Lead: Alli Harvey
Project Team: Lauren Criss-Carboy, Jamie Hansen
This project took place in early 2020, early in the COVID-19 pandemic when much was still uncertain. Community engagement was a vital component to the Museum's work, yet in-person activity was very limited. Information Insights worked closely with VMHA to design and implement a fully remote community engagement process, which included a series of one-on-one Zoom interviews with key thought leaders. Ultimately, this approach served the community and the Museum incredibly well, resulting in deeper connections and a shared understanding of this expansion from one-on-one conversations, as well as a trove of testimonials VMHA could use in communication and fundraising materials to highlight the underlying community support for the project.
Information Insights began the project with targeted strategic planning, working closely with VMHA, the City of Valdez, Wolf Architecture, and Hennebery Eddy to create high-level vision and goals for the expansion. As the stakeholder engagement rolled out, Information Insights worked with VMHA to identify major community stakeholders (including local business owners, long-time Museum supporters, Valdez civic leaders, and many more) who needed to be engaged as part of the process. We then designed a tailored stakeholder outreach strategy and timeline that included community stakeholder interviews, a community survey, and snapshots of community support for the expansion. While developing a compelling story of community support, we also trained Museum staff and board members on fundraising strategies and tactics for gaining strong funders through support of donors, corporations, and foundations.
Project Management and Support
Overall project management and organized retention of information for VMHA
Strategic planning and visioning to guide the overall process
Stakeholder outreach strategy
Outreach calendar
Support materials (outreach language for emails and calls, graphics, social media)
Communications Support, including website review and high-level talking points
Public Process and Stakeholder Engagement
Facilitation of 20 hours' worth of one-on-one community Stakeholder Interviews
76 Valdez residents shared thoughts via online community survey
Compilation of high level outcomes and themes from stakeholder and public engagement
Community testimonials used in fundraising and outreach materials
Fundraising calendar
Support materials (written, scripts, outreach language)
Grant writing and editing support
Business Projections for New Museum Facility, underscoring the potential of the new facility to potential funder, community, and business interests
Customized (remote) Fundraising Training for the VMHA Board of Directors
Donor prospect research and organization: 400+ contacts managed, 50 donors identified as key prospects
Information Insights was able, at critical time, to support laying the groundwork for the Valdez Museum and Historical Archive expansion. The client walked away with clarity, training, and the tools and templates to continue outreach and fundraising efforts and have a successful expansion based on their own community's direction and knowledge. We are glad to have had the opportunity to support an important nonprofit and help jump start VMHA's process of making expansion a reality.
See a walkthrough of the vision for the new museum design!